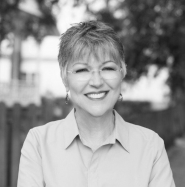 Crissie Cudd
Broker Associate
I have a tendency to be really passionate about things. When I was growing up, it was Nancy Drew and now it's gardening and geneology. But one passion that began early and lasted to this day is history. Being around it, hearing about it, absorbing it, and now living in it, has made me an ardent cheerleader for the historic homes in Jacksonville. Maybe that enthusiasm will wane in twenty years or so, but for now I'm a diehard fanatic.
My husband and I live in Historic Springfield near Klutho Park, have Big Jim as an alarm clock, and friendly people who stop to chat when we are working in the yard or sitting on the porch. I'm also a Broker Associate at RE/MAX WaterMarke and I love to help buyers and sellers in the historic areas of Jacksonville.
With 31 years of experience in real estate as an agent, trainer and manager, I bring real-world experience to the business of real estate. I am the author of numerous real estate articles and the book "Sell Your Home in a Tough Market – Now!".
Historic homes and neighborhoods are rich in history but vibrant with the people who live in them and celebrate them as much as I do. I'm doing everything I can to help other folks discover our historic treasures – Jacksonville's best kept secrets. Let me know if I can help you.